International Summit of New Technology for Ecology and Environment 2019
1. Name
International Summit of New Technology for Ecology and Environment 2019
2. Date & Venue
Date: Oct. 11-12, 2019
Venue: Nanjing International Expo Center, Nanjing International Expo Center Hall 4&5
3. Organization
Hosted by:
Jiangsu Provincial People's Government
Ministry of Ecology and Environment of the People's Republic of China
Organized by:
Department of Ecology and Environment of Jiangsu Province
Operated by:
Jiangsu Provincial Academy of Environmental Science
Jiangsu International Environmental Development Center
Jiangsu Provincial Environmental Protection Publicity and Education Centre
The International Summit of New Technology for Ecology and Environment 2019 will be held on October 11-12 at the Nanjing International Expo Center. As a high-level, multi-disciplinary, international, and professional platform, the CIEPE aims to interpret the latest policies, grasp industrial trends and share innovative technologies in the environmental protection industry, facilitate negotiations and match-making for environmental protection institutions and enterprises from home and abroad, and become a one-stop ecological environmental protection technology exchange event of greater influence for government-industry-university-research institute collaboration.
4. Highlights
With 10 years of history, the CIEPE keeps forging ahead.
With 10 years of accumulation, the CIEPE takes the lead in developing Jiangsu's environmental protection market and going global.
Here, we provide the authoritative interpretation of the latest policies and release market demand.
Here, we bring together cutting-edge innovative technologies, solutions and professionals in all fields of the environment.
Here, we meet the huge market demand of pollution control based on strong environmental research capabilities.
Here, we discuss the development trend of environmental protection technology and look into the future industry.
Here, we share the latest technological innovations and create unlimited business opportunities.
5. Major events
1) Environmental Governance Technology Summit & Symposium
2) Exhibition of New Technologies for Ecology and Environment
3) New Technology Release & Roadshow and One-to-one Matchmaking for Enterprises
4) Jiangsu High-end Talent in Ecology and Environment Exchange Meeting
5) Jiangsu Province "Green Finance" Dialogue
6) Celebrations for the 10th Anniversary of the CIEPE
6. Extensive range of exhibits
l Overseas exhibition groups
l Water treatment and marine environmental protection
l Air pollution control
l Soil and ecological restoration
l Integrated utilization of solid waste and resources
l Agricultural and rural pollution control
l Integrated environmental services
l Green financial service
l Low carbon emission and energy conservation
l Universities and research institutes
l Environmental monitoring
l Environmental protection industrial parks and associations
7. Floor plan (24,000 m2)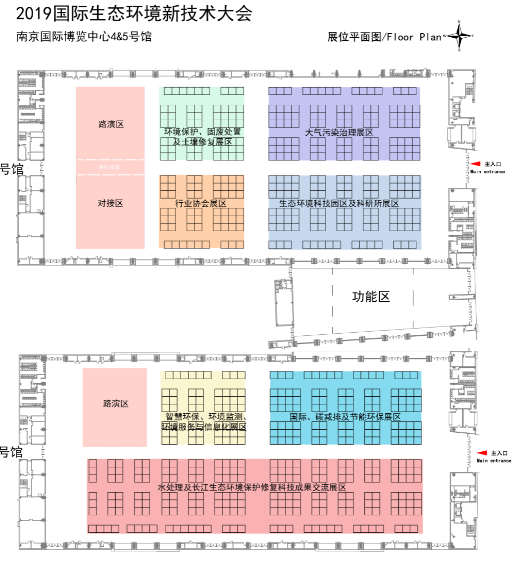 8. CIEPE review
With the support of Jiangsu Provincial People's Government and Ministry of Ecology and Environment, the CIEPE has attracted 210 companies from 10 countries and regions and held 18 concurrent summits on environmental protection, with more than 20,000 professional visitors. The 2018 Jiangsu Leading Talent Conference on Ecology and Environment recruited thousands of talents for 100 companies.